Guitar technique has always been the main subject of discussions amongst guitar players. Thanks to technique, we are able to play anything we want. Our "guitar common sense" should guide us in not abusing it.
Technique gives "colours" to what we play. For example, a smooth legato, Holdsworth-style, is definitely in contrast with Gilbert's picking power. All this makes our way of playing more personal.
Our aim is to provide a guitar player with a comprehensive "vocabulary" of all techniques. It is then up to each player to use it with feeling. This cannot be taught as it belongs to each individual's awareness.
OnLine Guitar Course:
Our online courses provide technical lessons of 1 hour each for 4 times a month and will be followed by a program divided into three levels: beginner, intermediate, advanced. The TOTAL SHRED guitar course was created to improve shred technique, so you'll study: Alternate Picking, Legato, Tapping, Sweep Picking, String Skipping, Combinations, Coordination, Control, Speed.
// LEZIONI A ROMA //
The guitar school is based in Rome, there are so many students that teach in the school just to cover all the guitar style. You can do physical lessons, check out details here:
www.totalguitaracademy.com
// LESSONS on SKYPE //
If you live outside Italy you can do Face to Face lessons by SKYPE, check out the english version of the website for more details:
www.totalguitaracademy.com
// INSTRUCTIONAL BOOKS //
Francesco released 6 instructional books for TOTAL SHRED GUITAR
// INSTRUCTIONAL VIDEOS //
Francesco released in the years 3 instructional DVDs for CHOPS FROM HELL website: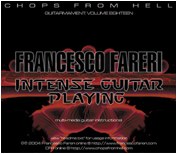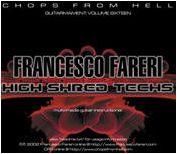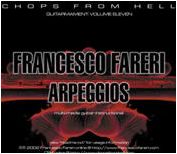 // LESSONS on MAGAZINES //



Francesco Fareri during the years wrote and recorded a lot of guitar lessons for web-magazines and more sites, actually he collaborates with the Italian guitar magazine CHITARRE, AXE and a website called MUSIC OFF that periodically publish his lessons with audio and video support.